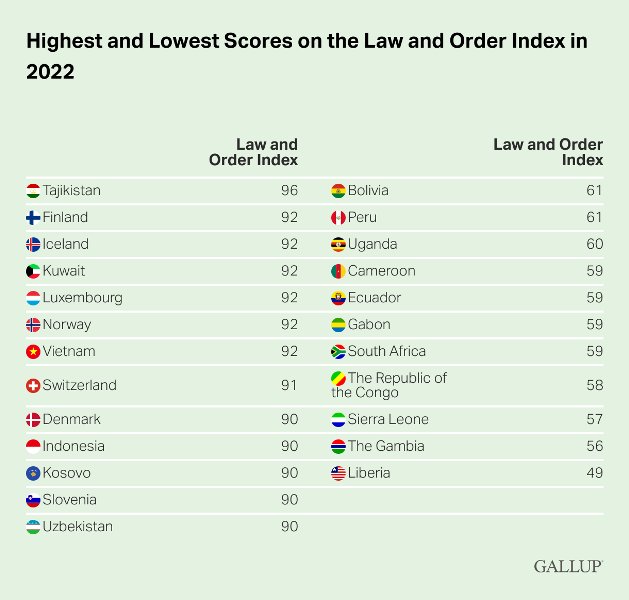 As a result of a survey, the international research center "Gallup" placed the Republic of Tajikistan on the list of the safest countries in the world.
The new "Gallup" report was published at the end of October 2023 and includes the opinion of residents about their sense of danger and security in 142 countries of the world. In this ranking, Tajikistan with 96 points is ahead of Finland and Iceland with 92 points in the world's peaceful and stable countries.
The survey was conducted by phone or face to face, and about a thousand people from each country took part in it. Residents were asked the following questions:
Do you trust the local police in the city or area where you live?
Do you feel safe walking alone in your city or neighborhood at night?
In the past year, have you or a member of your family had money or property stolen from you?
In the past year, have you been assaulted?
Around 7 in 10 people worldwide say they walk alone at night (71%) and trust the local police (72%). About 1 in eight (12%) said they or a family member had their property stolen in the past year, and one in 16 (6%) said they were assaulted or robbed.
The Republic of Tajikistan, which is the leader in this ranking, was only behind Singapore in 2021.
It is appropriate to say that peace is the main factor in the development of the tourism industry, and tourists visit countries where peace and stability prevail.
Therefore, Tajikistan is a popular and attractive country for travel enthusiasts, and its recognition as a safe and peaceful country in the world has the best and most opportunities for the development of the tourism industry.